Doppelherz aktiv Active-Meno
glutenfree
lactosefree
Active-Meno
Soja-Isoflavone + Calcium + D3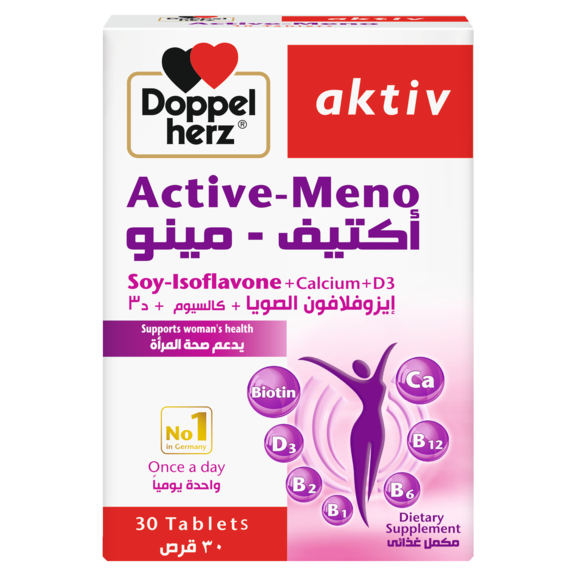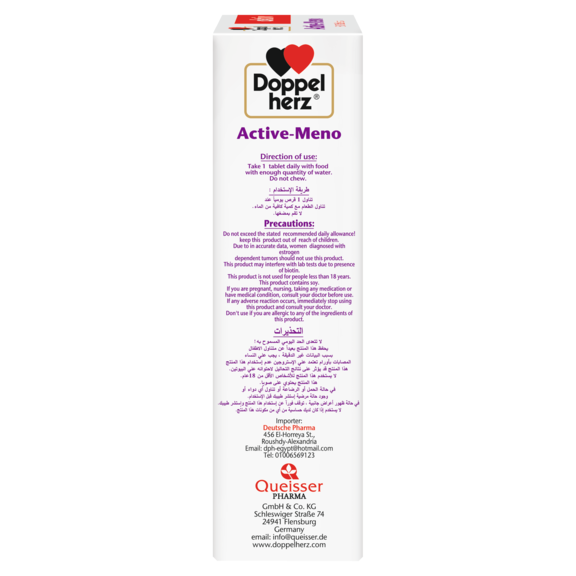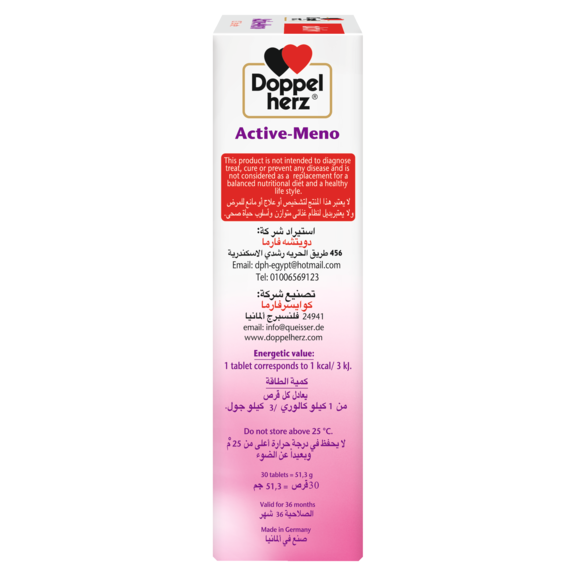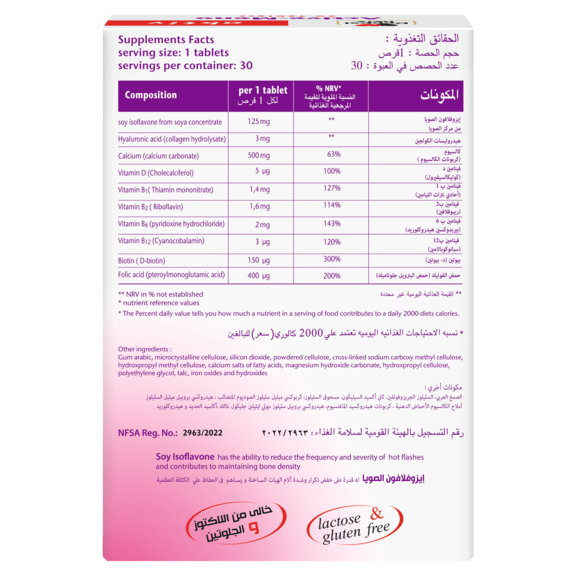 ---
Nutrients for women going through menopause

500 mg calcium + vitamin D as a contribution to bone preservation

Vitamin B6 contributes to the regulation of hormone activity

Plus 125 mg soy isoflavones and 3 mg hyaluronic acid
glutenfree
lactosefree
---
Calcium and vitamin D3 for normal bones Vitamin B6 to regulate hormone activity
The Doppelherz tablets contain a special nutrient combination of 500 mg calcium combined with 5 µg vitamin D, B-vitamins and 125 mg soy isoflavones. In addition, the tablets contain 3 mg hyaluronic acid.
Vitamin B6 contributes to the regulation of hormone activity.
Calcium and vitamin D as a contribution to the maintenance of normal bones. Vitamin D also contributes to normal calcium absorption.
Vitamin B1, B2, B12 and biotin contribute to normal energy-yielding metabolism and the normal functioning of the nervous system.
Biotin supports the maintenance of normal skin and hair.
Folic acid contributes to normal blood formation and has a role in cell division.
Composition
| Ingredients | per tablet |
| --- | --- |
| Soja isoflavones from soja concentrate | 125 mg |
| Hyaluronic acid | 3 mg |
| Calcium | 500 mg |
| Vitamin D | 5 µg |
| Vitamin B1 | 1,4 mg |
| Vitamin B2 | 1,6 mg |
| Vitamin B6 | 2 mg |
| Vitamin B12 | 3 µg |
| Biotin | 150 µg |
| Folic acid | 400 µg |
Consumption recommendation
Take 1 tablet daily with food with enough quantity of water. Do not chew.
Note
Do not exceed the stated recommended daily allowance! Keep this product out of reach of children. Due to inaccurate data, women diagnosed with estrogen dependent tumors should not use this product. This product may interfere with lab tests due to presence of biotin. This product is not used for people less than 18 years. This product contains soy. If you are pregnant, nursing, taking any medication or have medical condition, consult your doctor before use. If any adverse reaction occurs, immediately stop using this product and consult your doctor. Don't use if you are allergic to any of the ingredients of this product.
Soy Isoflavone has the ability to reduce the frequency and severity of hot flashes and contributes to maintaining bone density.
This product is not intended to diagnose treat, cure or prevent any disease and is not considered as a replacement for a balanced nutritional diet and a healthy lifestyle.
Ingredients
Gum arabic, microcrystalline cellulose, silicon dioxide, powdered cellulose, cross-linked sodium carboxy methyl cellulose, hydroxpropyl methyl cellulose, calcium salts of fatty acids, magnesium hydroxide carbonate, hydroxpropyl cellulose, polyethylene glycol, talc, iron oxides and hydroxides.
Reviews
No ratings have been submitted yet. Submit your first review here.