Doppelherz aktiv Magnesium+Calcium+D3
glutenfree
lactosefree
Magnesium+Calcium+D3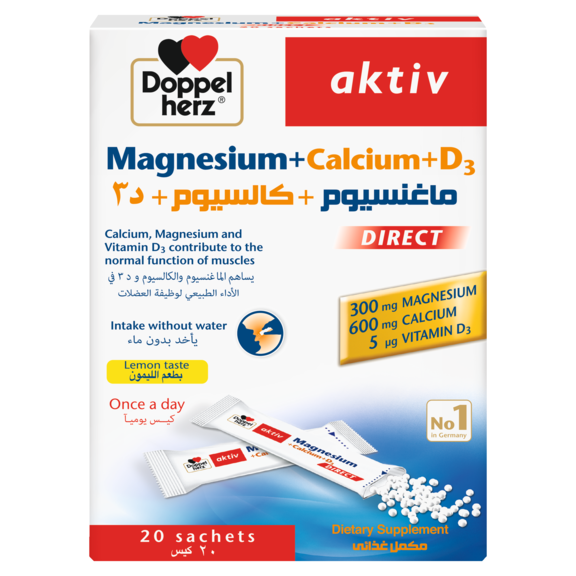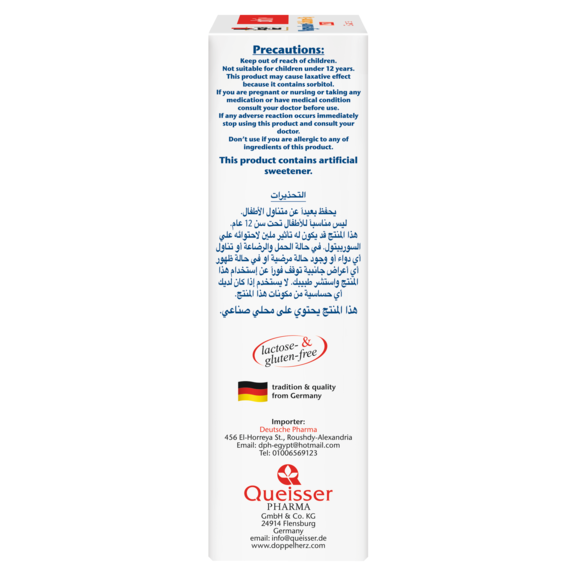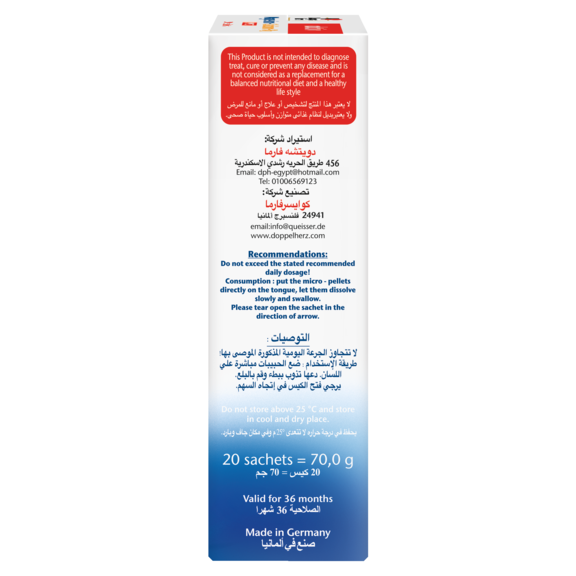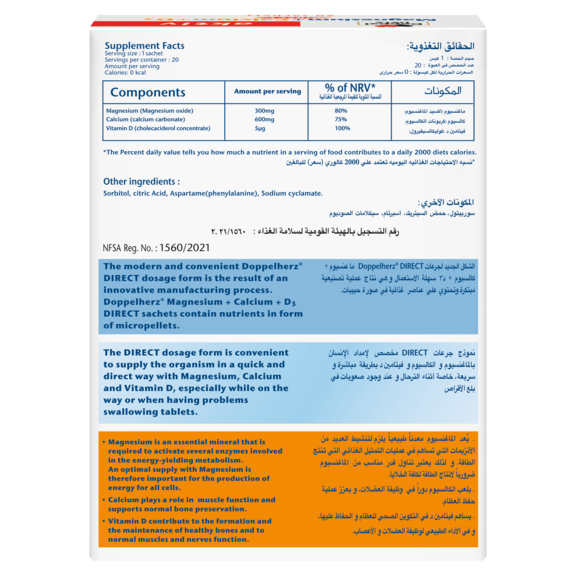 ---
With 300 mg Magnesium, 600 mg Calcium and 5 µg Vitamin D

With a delicious lemon taste

Intake without water
glutenfree
lactosefree
---
Calcium, Magnesium and Vitamin D3 contribute to the normal function of muscles
The modern and convenient Doppelherz® DIRECT dosage form is the result of an innovative manufacturing process.
Doppelherz Magnesium + Calcium + D3 DIRECT sachets contain nutrients in form of micropellets.
The DIRECT dosage form is convenient to supply the organism in a quick and direct way with Magnesium, Calcium and Vitamin D, especially while on the way or when having problems swallowing tablets.
Magnesium is an essential mineral that is required to activate several enzymes involved in the energy-yielding metabolism. An optimal supply with Magnesium is therefore important for the production of energy for all cells.
Calcium plays a role in muscle function and supports normal bone preservation.
Vitamin D contribute to the formation and the maintenance of healthy bones and to normal muscles and nerves function.
Composition
| Ingredients | per sachet |
| --- | --- |
| Magnesium (Magnesium oxide) | 300 mg |
| Calcium (calcium carbonate) | 600 mg |
| Vitamin D (cholecaciderol concentrate) | 5 µg |
Consumption recommendation
Serving size: 1 sachet
Do not exceed the stated recommended daily dosage! Consumption : put the micro - pellets directly on the tongue, let them dissolve slowly and swallow. Please tear open the sachet in the direction of arrow.
Note
Keep out of reach of children. Not suitable for children under 12 years. This product may cause laxative effect because it contains sorbitol. If you are pregnant or nursing or taking any medication or have medical condition, consult your doctor before use. If any adverse reaction occurs, immediately stop using this product and consult your doctor. Don't use if you are allergic to any of the ingredients of this product. This product contains artificial sweetener.
This Product is not intended to diagnose treat, cure or prevent any disease and is not considered as a replacement for a balanced nutritional diet and a healthy lifestyle.
Do not store above 25 °C and store in a cool and dry place.
Ingredients
Sorbitol, citric Acid, Aspartame(phenylalanine), Sodium cyclamate.
Reviews
No ratings have been submitted yet. Submit your first review here.